How Much Do I Need to Save for College?
According to the Education Data Initiative, the average cost of attending a public in-state university for four years while living on campus is $104,108 or $26,027 per year. Out-of-state students pay around $27,091 a year or $108,364 over four years. Private and nonprofit university students pay up to $55,840 a year or $223,360 in total.
The cost of higher education is steadily increasing, meaning many potential students and families have a lot to consider when choosing a school, such as cost of tuition and how much they need to save.
You may be asking yourself the same question, "How much money do I need to save for college?" and while the easiest answer is always "as much as you can," we're here to provide a more concrete plan of action to make building a college fund a breeze.
The most common and effective first step to take is exploring current and projected tuition costs of the schools you have in mind – whether they be public, private, out-of-state or a local community college or technical school – then calculate how many years you have to save before applying. Next, divide your projected total by the number of years you have to save money to determine a solid baseline savings goal!
You can also look into putting your savings toward a 529 plan – a tax-advantaged savings plan that's specifically designed to save for future education costs – of course, even just a standard Savings Account will do wonders! Also, it's important to note that you'll typically pay less than cost estimates foresee, especially when you consider the possibility of receiving grants, scholarships or other forms of financial aid.
Ultimately, your most valuable tool for determining how much you should save for college is by using your school's net price calculator. Federal law requires most colleges to provide one on their websites, allowing you to get actual estimated costs of your specific institution. The U.S. Department of Education even has its own Net Price Calculator Center where you can search  potential schools to find their calculator!
Going to college is one of the biggest journeys one can take on the Road of Life, and The Peoples Bank is there for every step of the way. Start a Savings Account with us today to make every cent saved count, or utilize our own College Savings Calculator to give you a better idea of where to start.
*Example ONLY calculated estimate below: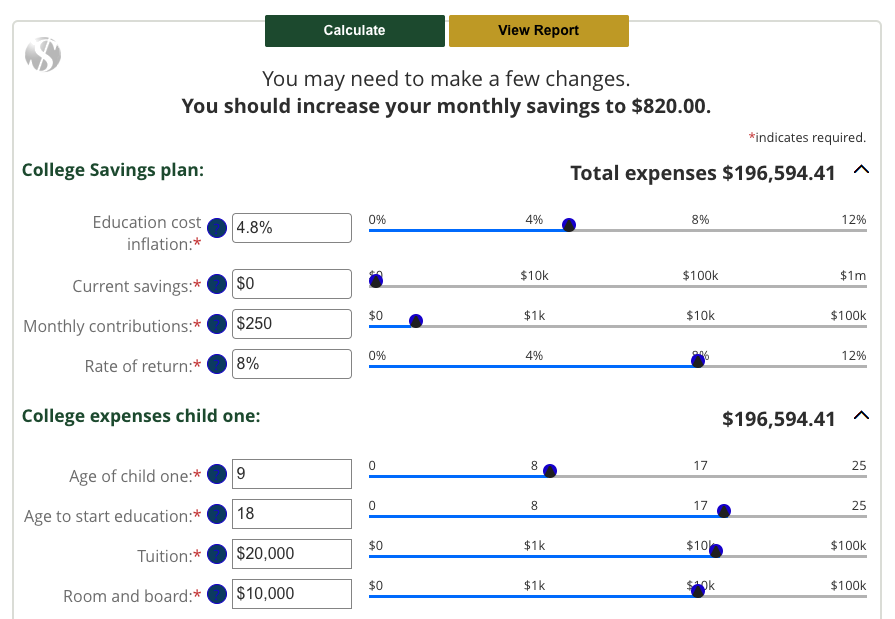 ---