Darnell Schreck Reaches 35 Years with The Peoples Bank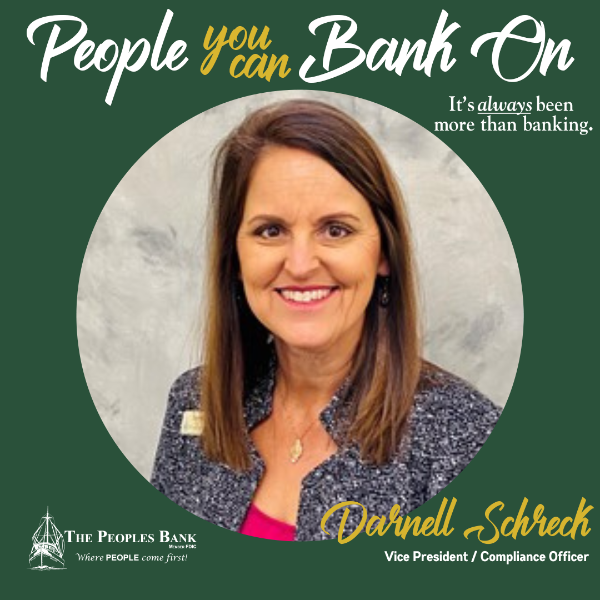 Thank you, Darnell Schreck, for Your Years of Outstanding Service. Here's to Many More! 
Darnell Schreck has reached a truly momentous milestone in 35 years of service at The Peoples Bank! Coming to us from Biloxi in November of 1988, Darnell has worked her way up from the frontlines as a Teller to working in compliance for more than 21 years. She was promoted to Vice President / Compliance Officer in February 2022.
One of the things that Darnell finds most rewarding about working with The Peoples Bank is her work in Compliance. It has proven a perfect fit for her as she helps our bank stay in check within the ever-changing regulatory environment in which we are held accountable. What may seem like a constant challenge to some is what she finds most exhilarating about her role, all made easier by her passion for helping fellow team members learn and understand banking compliance laws.
When asked about memorable moments with The Peoples Bank, Darnell said:
"I have many memorable moments from working at The Peoples Bank over the last 35 years, such as achieving my Certified Regulatory Compliance Manager (CRCM) designation and being promoted to Vice President. But most importantly, I will always remember the great mentors I've had along the way."
Thank you so much, Darnell, for all the fantastic work you do for The Peoples Bank and our customers!
---